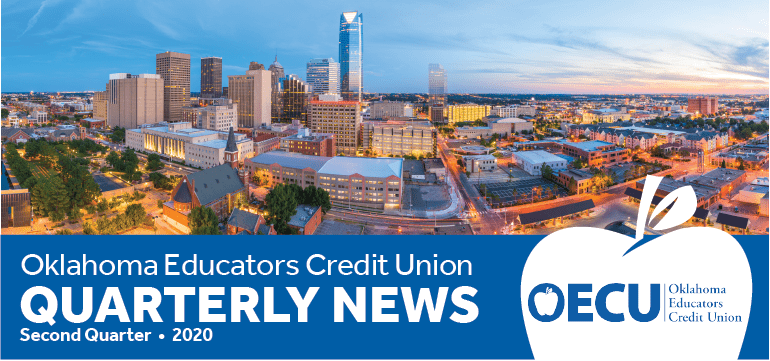 14 Apr

OECU Newsletter – 2nd Quarter 2020
UPCOMING EVENTS
June 19, 2020
Teacher Grant Application Deadline
OECU HOLIDAYS
May 25, 2020
Memorial Day – Closed
July 4, 2020
Independence Day – Closed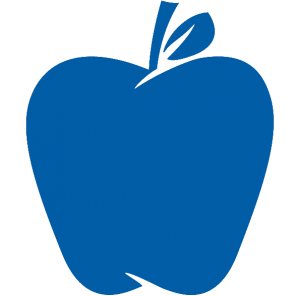 5 Simple Hacks to Limit Your Exposure to Illness
In the midst of fl u season and the COVID-19 (Coronavirus) pandemic, we are taking health concerns very seriously. During times like these, it is important that we diligently limit our exposure to health risks, many of which can be
found surrounding money.
Here are 5 simple tips to help you limit your exposure to health risks while dealing with your money.
1. Avoid using cash, if you can, and sanitize your hands after handling coins or paper money.
2. While you're at it, be sure to sanitize your debit and credit cards, regularly.
3. Limit your money handling by making the move to secure and convenient services, such as OECU's bill pay feature. This option allows you to pay your
bills directly from your OECU account, without ever leaving the house!
4. Take advantage of OECU's other secure and convenient self-service options including online and mobile banking, which provide access to your accounts 24/7. Visit us at www.oecu.com to sign-in to our online banking portal.
5. Prefer to talk to a real person? We've got you covered! Just call our Virtual Banking Center at (405) 722-2234 or (800) 325-8259. Or, visit us using our convenient Drive-thru option.

APPLY
TODAY!
Oklahoma Educators Credit Union's 2020 Big Idea Teacher Grant Program is now open and accepting applications!
"We began the Teacher Grant Program years ago," said Cindy White, President and CEO of OECU. "It's our way of empowering and supporting Oklahoma
teachers to be creative and innovative, and to provide their students with new and exciting ways to learn."
Awarding some $30,000 in grants this past year, OECU is proud to help educators bring their Big Ideas to life in their own classrooms.
To be eligible to receive an OECU Teacher Grant, applicants must be an active OECU member in good standing, and be an employee of a school and/or school district within the state of Oklahoma. Our grants are not limited to any school
district, grade level or subject matter.
Applying for a Teacher Grant is easy, too! Just fill out the application and tell us about your Big Ideas for your classroom and/or school community.
Paper applications are available at any of our fi ve area OECU branches and online at OECU.com/grants.
The deadline to submit your completed Big Idea 2020 Teacher Grant application is at 5:00 p.m., Friday, June 19, 2020.
Beat the Deadline and Get Special Savings on TurboTax
Have you filed your taxes yet? There's no need to panic, OECU has teamed up with TurboTax® to make it easy to file on time – and get your biggest possible refund. PLUS, you can save up to $15 on TurboTax federal products.
Simple filer? Homeowner? Investor? Freelancer or side-gigger? TurboTax has the right solution for your unique tax situation.
File with confidence, knowing that TurboTax guarantees 100% accurate calculations and runs thousands of error checks as you go. And if you need help, TurboTax has it: from answers online anytime, to unlimited advice and a fi nal review from a CPA or Enrolled Agent with TurboTax Live. Finish Now and save up to $15 on TurboTax
federal products!
OECU Named Yukon's Best Credit Union!
The votes have been tallied and OECU has been named Best Credit Union in Yukon by readers of the Yukon Review, the city's local newspaper. Congrats to the OECU Yukon team for all their hard work!
Spotting Fraudsters Before They Spot You
During times of crisis, opportunistic cyber and real-world criminals look for ways to prey upon the vulnerabilities of the public's concern, including the fear, anxiety and unknown surrounding the coronavirus.
In times like these, it's important to be alert, vigilant and cautious.
One of the most common crimes of opportunity during the current atmosphere are phishing scams. Phishing scams use fraudulent, often well disguised, emails,
phone calls, texts, websites, and even mail and/or faxes to steal personal information and gain access to everything from bank accounts to identities.
Email and phone scams taking place in today's COVID-19 world include phishing for personal information by impersonating health officials.
Donation requests to fund emergency plans have also been reported, as well as emails falsely claiming the virus is in the recipient's area.
Luckily, there are ways to spot these fraudsters before they get
you:
NEVER respond to an email asking you to verify or update your personal
information.
Delete any unsolicited email in your email accounts – don't even open them!
Never give out your personal or financial information on the phone or online unless you initiated contact.
Watch for suspicious or misleading domain names.
Hang up and call back if you receive a phone call with a known phone number.
Visit the Federal Trade Commission website for more information on "How to Recognize and Avoid Phishing Scams."
NOTE: The World Health Organization has authorized just one call for donations, for the "COVID-19 Solidarity Response Fund." Any other
request for donations claiming to be connected with the WHO
is a scam. – Reported by the WHO.
Annual Meeting, Annual Fun!
The 59th Annual Meeting took place on leap day 2020 at the Credit Union House in Oklahoma City, Okla. Some 150 members attended the event to hear the state of the Credit Union. Attendees enjoyed a tasty luncheon and tried their dobber at a few rounds of bingo. A few lucky members won big, too!